Find Out More
Getting back into exercise can be a challenge and with so many different options out there it's hard to know what to do for the best.
That's exactly why I created Pilates Health Online, to help, support and guide you through, every step of the way.
Pilates Health Online is a Monthly Membership specifically tailored to meet the needs of women over 40 who are looking to get back into exercise.
Pilates Health is all about putting YOU in CONTROL. It's about keeping fit, healthy and active. Helping YOU to feel more relaxed, confident and ready to face the world.
I guide you through, right from the beginning, teaching you everything you need to know to get started with Pilates.
The Pilates Health Journey – is broken down into manageable stages that help you increase flexibility, become stronger and feel more in control.
So whether you are looking to get back into exercise or you are recovering from an injury, Pilates Health can help guide you to where you want to be.
Where it all began
I started out back in 2000 as a Physiotherapist working for the NHS. I soon found my passion was in helping people who were struggling to exercise due to injuries or pain.
This is when I found Pilates! I saw how it could help so many people build their confidence in their bodies. It gave them the ability to work towards goals that were important to them and at their own pace.
I went on to open my own Pilates Clinic in Solihull back in 2013 and since then I have had the privilege of working with hundreds of women aged from 30 right up to 82!  Helping them to achieve

their

goals.
Many of them came to my very first classes and I am honoured to still work with them today!
So what is it like to work with me?
Good question! I don't profess to be the fittest, most super toned Plates instructor out there, that's just not me. I am not about workouts as a quick fix, I am more your tortoise than the hare.
For me, It's all about keeping fit and healthy with strong muscles, flexible joints and a healthy mind.
I think

how

you exercise is

sooo

important. It is better to work at a level that is right for you, activating the

right muscles

at the

right time

and building up
If we work at a higher level too soon then we risk injury by getting the wrong muscles to do the job or over using certain joints.  You may feel like 'everything' has worked but unless it's the right muscles, in the right way, what's the point?
Keeping active should be fun – if you don't enjoy it you won't do it. So I try to always bring a bit of humour to my classes, I don't edit out the classes to make them perfect and I definitely have days when my body goes on strike!
What about the real me?
I am a busy Mom to 2 wonderful boys, William and Zac and a self-confessed Chocoholic.
Anyone who knows me will tell you I am slightly crazy (in a good way) and I think life is way too short and it is important to have a laugh and enjoy yourself.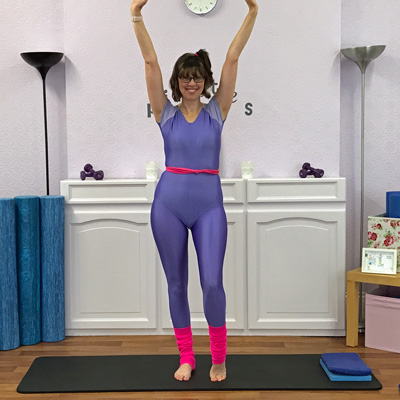 Just to explain, that is not how I normally exercise! It was a class I did to raise money for Sport Relief. Someone suggested I should do it in 80's wear, so I thought, why not.
Don't get me wrong I have plenty of days where I over think things and get stuck in my own head but I have found Pilates to be a great way to chill out and relax.
I love teaching! I think it is fantastic and I find it so rewarding to see how Pilates makes such a difference in people's lives. It's why I do what I do and why I wanted to create Pilates Health, to reach more people. I want to make a difference and have fun along the way.
I would love you to join our community so we can support YOU on YOUR journey.
Zoe x